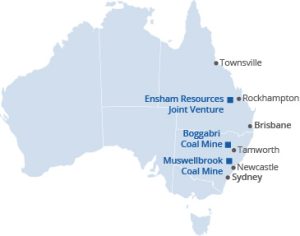 Idemitsu Australia Resources (IAR) owns coal mining operations in Queensland and New South Wales.
We work closely with local communities, businesses, governments, and other stakeholders to balance the economic, social and environmental values of mining. As part of this commitment, we employ locally wherever possible.
IAR's three major operations include:
Boggabri Coal Mine
Muswellbrook Coal Mine
Ensham Resources.
IAR is also a 30% partner in the Tarrawonga Joint Venture, located 16 kilometres north-east of Boggabri in New South Wales. The operation is managed by Whitehaven Coal Company, which owns the remaining 70% of the operation.